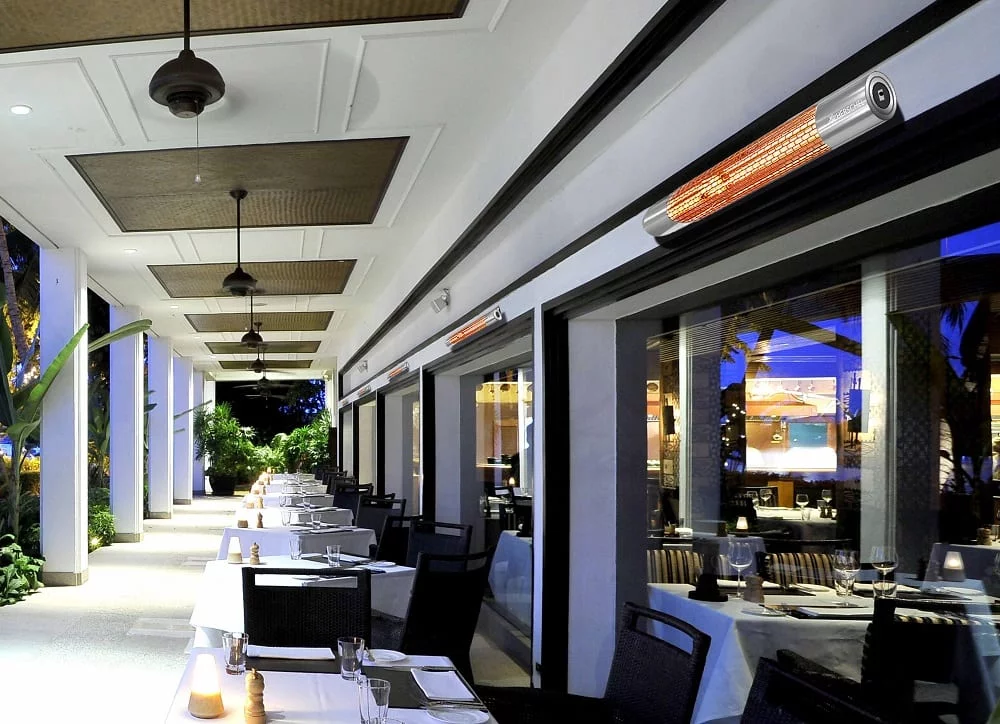 Herschel Sunset range
Herschel have a wide selection of heaters for all applications, but some of their heaters work best in indoor/covered spaces. They have now launched a new solution for outdoor heating: the midwave 'Sunset' range. These are more powerful than Herschel's Aspect heaters, which are designed for warehouses and large indoor spaces, and also work far better than old-fashioned patio heaters. The California and Colorado heaters have been designed for exposed outdoor areas. They are more directional and work better in draughts or areas with open canopies. They're perfect for socialising on the patio on a breezy summer day, or for outdoor areas in bars, restaurants and cafés.
With outdoor heaters, it can often seem like you have to compromise aesthetics for functionality. The 2.0kw California is the most stylish outdoor heater of its kind – and discreet too. It can be used with a remote control and is available in silver, black and limited edition gold. The Colorado combines a tasteful and sleek design with a powerful 2.5kw output. Both warm up in just 5-10 seconds, and have different power settings for easy temperature control. They are IP55-rated, meaning they are safe for use in wet weather. Unlike other Herschel infrared products, these heat via lamps, and as a result give off a warm glow, but not the invasive light or uncomfortable levels of heat from ugly quartz halogen heaters! If you're looking for a solution for a hard-to-heat area, these heaters are an effective, contemporary choice. The California and Colorado are energy efficient, with a lifetime of up to 10,000 hours, and they can be mounted either to a wall or on a portable stand.