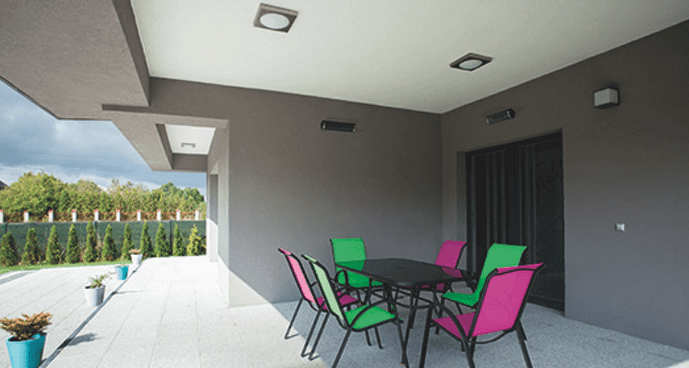 For those that are lucky enough to enjoy those spring, summer and autumn evenings outside will know that occasionally the rugs or gas patio heating has to come out just to keep the chill of the evening away and stop the party from ending prematurely.
However, rugs and lugging gas cylinders around is unsatisfactory and make for more hassle that it's worth. Here are TheEcoStore we are big fans of Electric patio heating (infrared). With Gas becoming less acceptable (as well as being inconvenient) electric patio heaters are becoming more and more popular. Low running costs, flexibility in terms of positioning and control together with a comfortable heat make them perfect for patio installations.
Herschel Infrared – the efficient patio heating
While you may have been in the outdoor areas of pubs and felt the harsh heat and glare of halogen heaters, or near-infrared, Herschel offers a range of outdoor heaters which tone-down the light while maxzimising the heat output and even offer a range of outdoor heaters that emit no light at all. All Herschel's heaters are radiant, meaning they heat objects and people directly without first heating the air, and consequently don't waste so much energy as other types of heater that mainly heat air.
Infrared heats you up as if you were standing in bright sunshine on a winter's day. There's no way you can heat up all of the air on a patio, so the only truly efficient way to heat yourself is through infrared.
[product_box id="157303″][/product_box]
How do running costs compare?
So for a standard propane burning patio heater, you'd be looking at 16kW. Whereas to heat the same area using an infrared heater you would only need around 2 – 3 kW.
For electricity, a standard tariff would be £0.14/kWh so if you have your 2kW electric patio heating on for 5 hours throughout the evening, the far-infrared would cost you £1.40, not bad for 5 hours of warmth!
The propane you're looking at £1.30 for a similar amount of time. It is slightly cheaper – for now – even though you are burning more kilowatts, gas is still cheaper than electricity – but it is a lot less green.
However remember with infrared that you don't have to refill gas tanks, have any inspections (for commercial premises), they are easy to install and very low maintenance.
[product_box id="157293″][/product_box]
Infrared patio heaters – comfortable yet powerful
Outdoor infrared patio heaters not only provide you with a very comfortable and powerful heat, but they also look fantastic and can fit into gardens/outside areas of modern and old properties alike. Coming with an integrated grill and different installation and control options, Herschel's "Sunset" range is stylish, flexible and effective, ensuring everyone at the party stays warm throughout the night.
[product_box id="107711″][/product_box]
Electric infrared is clean and safe for patio heating
The electric infrared heaters are also emission free, unlike gas patio heaters that release carbon dioxide and some unpleasant gasses. So they are perfect for sheltered patios. They operate silently, and with no glow, meaning that they don't disturb your evening BBQ.
One of the best things about infrared heaters is the lack of maintenance costs. Unlike the gas heaters they don't have to be refilled, and Herschel's carbon filament bulbs have a very long lifespan and can be replaced.
So electric infrared is a perfect heating option for your garden or outside area. Direct the heat to you and your seating area and enjoy those rare nights outside for longer!