Loft Lifters – Loft storage stilts
£16.99
Loft lifters are easy to install joist extenders that raise your loft boarding in order to allow extra insulation between your joists. Without these loft lifters you would only be able to have around 100mm of insulation as opposed to the required 270-300mm. It is far cheaper than installing wooden joist extensions and your whole loft could be insulated in just an hour or so.
In each box of Loft Lifters there are 12 adjustable, reinforced polypropylene extending legs which will cover an area of 1.2m2 (each further pack will cover an area of 1.6m2)
Out of stock
Also recommended for this product
Description
Loft lifters are an ingenious way to raise your joists to allow extra insulation to be installed. Most joists are around 75mm high, whilst the modern building regulation standards say that loft insulation should be around 270mm. Loft lifters let you extend the joists by up to 180mm to allow extra insulation to be laid, without compromising your storage space.
Why do you need loft lifters?
If you just lay 270mm of insulation in the loft, and then store things on top of it, the insulation will be compressed. This prevents the insulation from working effectively. With loft lifters, or loft stilts as some people like to call them, you can lay boarding at a much higher level, preventing compression of the insulation whilst maintaining a useful storage space. See this video below for an illustration of the effectiveness of loft lifters:
How many lifters do you need?
In each box of Loft Lifters there are 12 adjustable, reinforced polypropylene extending legs.
Most joists are around 400mm apart. Installing loft lifters every 24 inches, or 600mm along the joists will allow you to lay boarding and provide a secure boarded area you can store items and stand on. Each box of 12 lifters will allow you to install at least 1.2 square meters of boarding, but the more you install, the lower the overall cost, because the lifters support boarding on both sides of the joist. Each additional box will give an extra 1.6m2 as the flooring is extended (so 2 boxes of Loft Lifters will cover 2.8m2, 3 boxes 4.4m2 and so on).
1 pack – 1.2m2 
2 pack – 2.8m2
3 pack – 4.4m2
4 pack – 6.0m2
5 pack – 7.6m2
6 pack – 9.2m2
7 pack – 10.8m2
8 pack – 12.4m2
9 pack – 14.0m2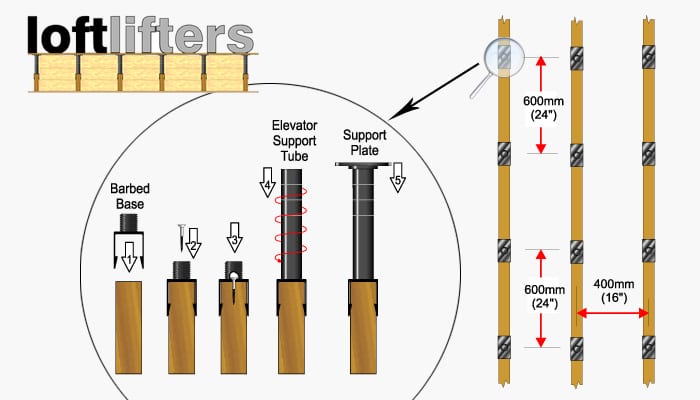 How to install loft lifters.
Loft lifters are incredibly easy to install – follow the guide below and there is a picture below that too – which should make the process incredibly straightforward:
The loft stilts fit on any standard joist of a thickness around 45mm-50mm and have a platform of 10cm x 10cm with which to place the boarding on top. These loft stilts boost the amount of insulation you have in your loft while maintaining that vital storage space.
Loft Lifters are perfect for joists with a width of between 45mm-50mm
Snap or slide the Barbed Bases over the wooden roof trusses, (joints) so that they are no more than 600mm (24″) apart along the length of the trusses, which are usually located at 400mm (16″) centres;
The barbed supports are 56mm deep, which gives the loft lifter the strength and support to hold masses of weight;
Drill holes through the bottom of the Barbed Bases and secure to the trusses with suitable screws of not less than 35mm (1ó") in length;
Secure the Elevator Support Tube on the barbed base by screwing it down firmly onto the threaded upstand. NOTE that each tube has 25mm cut off marks so that they can be shortened if a lower floor level of less than 180mm is required;
Repeat this procedure until all of the Elevator Support Tubes are positioned at locations which form a 600mm x 400mm interval grid on the roof trusses. See the diagrams on the underside of the box which will assist in determining the number of boxes of LoftLifters required. NOTE. Depending on the roof space layout and design, it may be necessary to use battening or other supports against party walls or close to the eaves;
Push a Support Plate into the top of each Elevator Support Tube. Suitable flooring materials can now be secured to the top of the Elevator Support Tubes using wood screws as shown in the illustration on the top of this box. NOTE. To ensure a secure and safe walking/storage surface, make sure that any corners of the flooring materials meet in the centres of the LoftLifters Support Plates.