Solar PV Diverter/Solar PV Optimiser/Solar PV Immersion Controller – all ways to describe the Apollo Gem.
If you have a domestic Solar PV system, then you are paid 50% of your generation as export. This is because most domestic systems are not installed with an export meter and so 50% of generation is taken as the average export. However, it is more than likely that you would export a lot more than the 50% that you would be paid for.
So how can you maximise your profit from a Solar PV system?
A Solar PV Diverter aims to use as much generated electricity, while exporting as close to 0% as possible. All that is needed is a storage system within the home, most commonly the hot water tank, however it can be used with storage heaters and battery systems as well. This means that when you come to need your hot water, the Solar PV system has already heated it so your boiler (or standard immersion heater) doesn't need to. The savings depend on how you heated your water originally, but a Solar PV Diverter can pay for itself in as little as 1-2 years.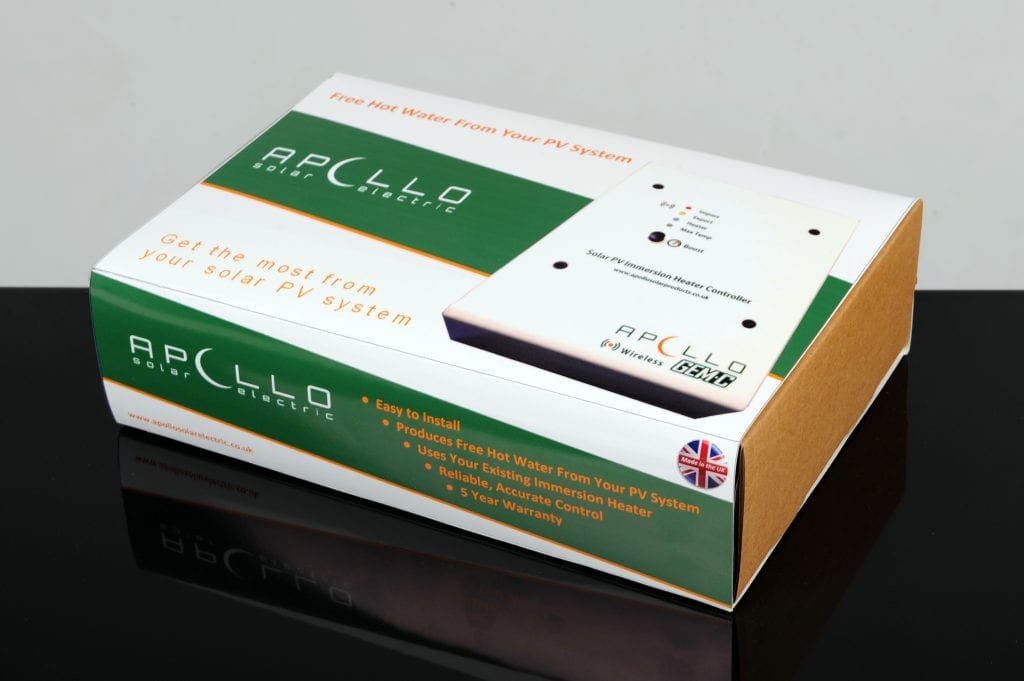 The Apollo Gem works with any Solar PV system and once installed doesn't affect any feed-in-tariff payments. Solar PV diverters don't just work with Solar Panels, but any form of renewable electricity generation.
How do Solar PV Optimisers work?
The Solar PV optimisers work by constantly measuring the power imported and exported, and diverts electricity accordingly. The Apollo Gem Compact ensures that the exported power is kept as close to zero as possible, while ensuring that no power has to be imported at any stage to the hot water system. Importantly, household appliances, such as TVs, kettles and dishwashers are given priority, which means that only surplus electricity that would have otherwise been exported is stored in the hot water store.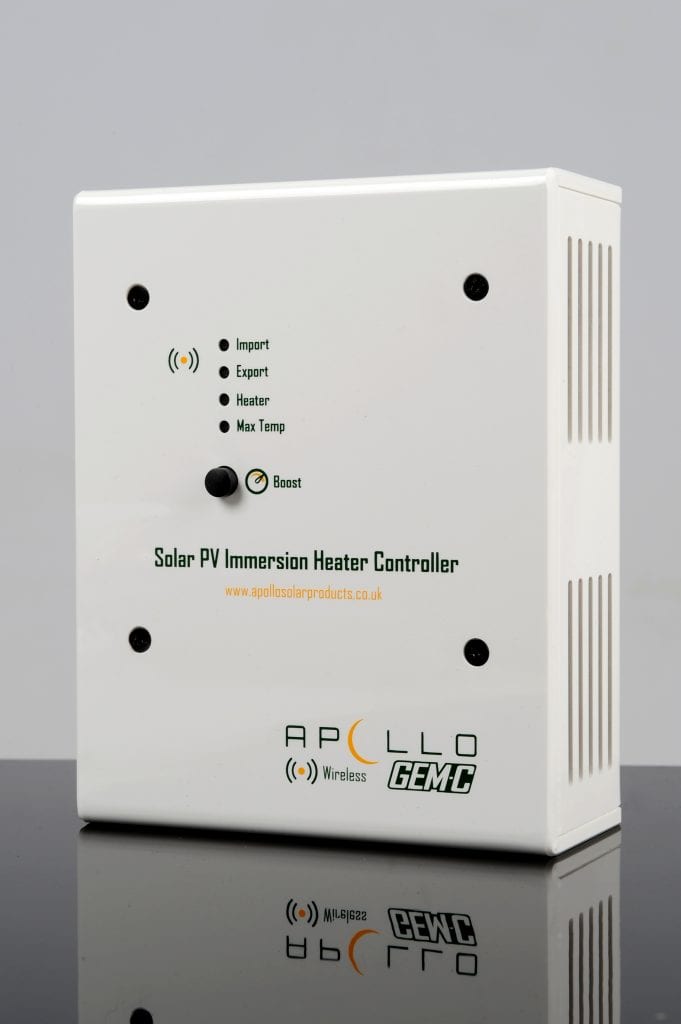 Everything you need to know about an Apollo Gem-C
The Apollo Gem Compact Wireless starts diverting surplus electricity at just 70 Watts and has a fantastically accurate power measurement and heater control. The rapid response time allows the system to accurately respond to changing generation and load conditions. When you still want to use you immersion heater, when no surplus is being generated, the Apollo Gem has a 1 or 2 hour boost function that can give you hot water whatever the weather. It comes with a wireless sensor for easy installation. With a 5-year warranty, this product is durable and highly reliable.
Is the Apollo Gem Compact easy to install?
Yes, all electricians and PV installers are more than capable of installing the Apollo. Even competent DIYers can install it as only one easy clip-on import export sensor is used. It doesn't need to be installed by an MCS certified installer and will not affect the certification of your generation system.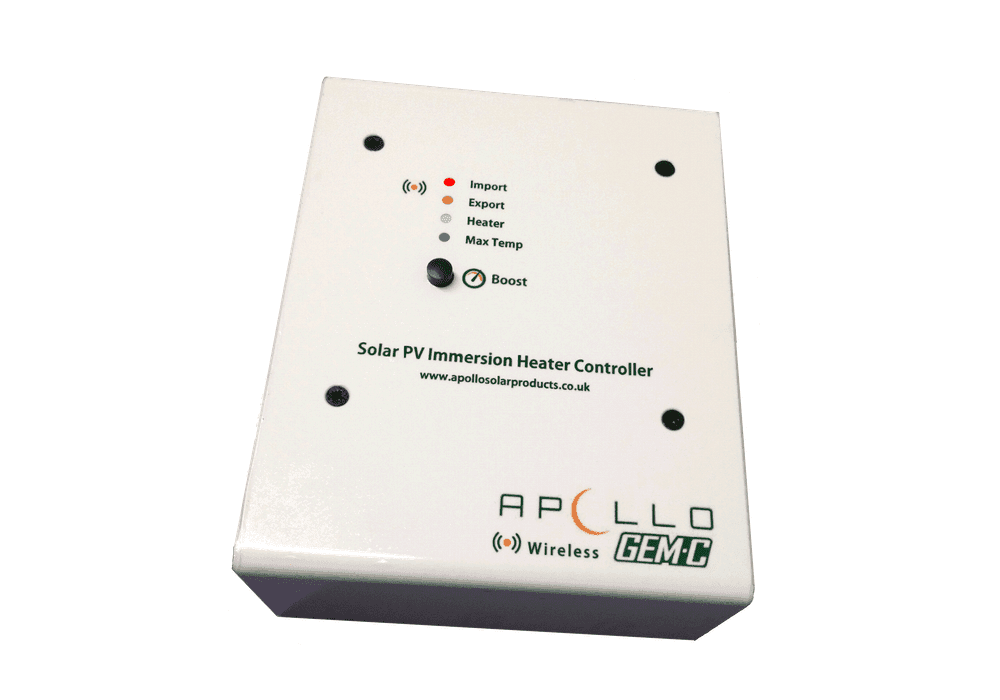 How much could the Apollo Gem Compact save me?
The amount that you can save will depend on what you currently heat your water with, the size of your PV system and the amount of hot water you use. Take a 4-bedroom house with a 4kW Solar PV system living off the gas grid means you should save around £250 per year.
Will I still get my export tariff payments after installing a Solar PV Optimiser?
Yes, even with a Solar PV Optimiser like the Apollo Gem Compact installed you will still get the Feed-In-Tariff export payments as you are paid 50% of all generated units as your export. So you can use 100%, and get paid 50%.
Do I need a hot water tank?
So the best way to use your Apollo Gem is to link it to the hot water store, however you can use it with a battery storage pack.
Do I need a dedicated immersion circuit?
No. The Apollo Gem Compact can be installed next to the hot water cylinder and can work even if there is no dedicated immersion circuit.
How do I know what is happening with export/import?
The Apollo Gem Compact Solar PV diverter has four coloured LED lights, which show if power is being imported or exported. It can also show if the immersion heater is using PV power or boosting using the boost button and if the water is up to temperature.
Apollo Gem Compact
Maximum Load – 3.2kW
Input Voltage – 215V-255VAC
Output – 70W – 3.2kW
Power Adjustment Period – every 2 seconds
Boost Function – 1 or 2 hours
Display – 4 x LEDs
Power Consumption – 1W
Dimensions – 145mm x 115mm x 50mm
Transmitter Range – 35m indoor, extender available
Power Sample Rate – once per second
Current Rating – 100A
Fitting – non-invasive clip-on, 16mm max cable diameter